The Sept. 11, 2005 PNW Greet and Meet went very well. The weather was not fantastic, but partly cloudy with some warm sun breaks is nothing to complain about for this time of the year. I know the few yellowjackets that buzzed us didn't mind. Mark and his wife have the ultimate BBQ deck and the house they're remodeling is turning out fantastic. They have a very nice view of the Puget Sound and the Olympic Mountains. We enjoyed the mid-afternoon by sitting out on the deck and savoring a few frosties, snacking on some chips, veggies and some wonderful homemade chocolate chip cookies while telling our famous stretched-out funny life events. Oh, just so that Mark's mind can rest at ease, I need to let everyone know that we did not listen to any disco music.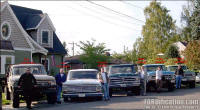 From the left: Aaron (Roachrider), Bill (prostreetf100), Jeremy (67effie), Mark (Comet), Greg (heep70) and Daryl (Kentdaryl). That's Mark's house behind us.
Once we felt that everyone who was going to be there had arrived, we decided to get pictures of the pickups before the sun disappeared behind the next set of clouds. Please forgive me if I don't get your information right. While we were out front by the pickups Daryl brought out a box of FREE Ford goodies that we all could take from. Thanks Daryl. I could not convince him to place the title of his just recently restored '70 Highboy in the box. I liked what Erin had mounted to the front of his '67 Highboy. He had the winch from Hell. He could pull all of our trucks out of a hole at the same time without a problem. Jeremy was the munchkin truck out of the bunch with his hopped up '67 SWB. Mark and I are still the same ol' '71 Highboy owners and Daryl won the spit and SHINE contest with his '70.
Now that it was time to flame up the BBQ. We had beer boiled brats, burgers, potato salad and pie for dessert. After dinner we again sat back rubbing our full bellies and enjoyed a few more laughs with the sunset allowing the evening to get chilly. I think for the next Meet and Greet we should try to get at least one of each year pickup in a line-up picture. Thanks to all who came out and made this meet and greet exceptionally fun and a very special thanks to Mark and his wife for hosting all of us at their place.
Greg